Chinese soup is a very healthy soup for us. For eating Chinese soup, we always go to a restaurant to take the delicious test. But this soup we can do this at home. Making house-special Chinese soup is very easy. You just need to follow this process.
In this article, I will share some house special Chinese soup that can make at home.
7 House special

Chinese

soup recipe that can make at home
---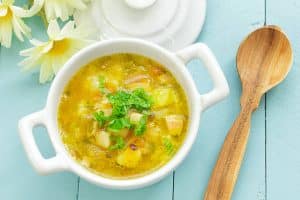 1. Easy Chinese chicken vegetable soup:
 Chicken vegetable soup is a unique house soup that can easily make at home. This recipe needs just a few simple ingredients that are available at home.
Ingredients:
Two teaspoons of olive oil

½ cup sliced onions

One tablespoon of chopped garlic

1/2 tablespoon ginger pest
1 cups chicken Kima

½ cup sliced mushroom
One tablespoon of rice vinegar

Two tablespoons soya sauce

¼ teaspoon red pepper flakes

½ broccoli

½ carrot

One tablespoon of lemon juice
Cooking process:
Take a pan on the stove. Pour olive oil into this pan. Add garlic and onion chopped in this pan after heating the oil. Fry these ingredients until they become light brown.
Add ½ tablespoon ginger pest to this cooking. Add chicken Kima, mushroom broccoli, and carrot to this pan. Cook these ingredients for 2 to 3 minutes, and then add water. 
Sprinkle pepper flex, soya sauce, and lemon juice. Bring to a boil. Then it's ready to serve.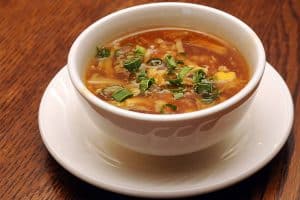 2.

Delicious Hot and sour soup
Hot and sour soup is a mix of soups made with chicken, egg, and tofu in a Chinese restaurant. It is a very healthy house special soup for everyone and any age. 
For making this soup, you can add your favorite vegetable according to your choice. 
Ingredients:
Broth: Either chicken or veggie stock (or broth) will do.
½ cup sliced mushroom

1/2 tablespoon ginger pest
Rice vinegar, soy sauce, and ground ginger flavor the broth.

Cornstarch: To thicken the broth.

Eggs

Firm tofu: We will cube and add it to the soup.

Sliced Green onions: 

Salt and white pepper
Cooking process:
First, make a thick cornstarch slurry to add to this soup by mixing stock and cornstarch. It's made a soup thick and tasty. Heat the mixture in the pan. The broth must be at room temperature or more excellent. Otherwise, the cornstarch will clump up and not dissolve.
Add oil, red pepper, ginger, onion, and garlic pest with the tofu. Mix all ingredients well with tofu and place in an airtight container. Keep in the regular refrigerator for marinating 2 to 3 hours.
Heat oil on the pan. Add ginger and onion pest. Marinate tofu and fry until tofu is become brown. Add the remaining stock, mushrooms, bamboo shoots (if using), rice vinegar, soy sauce, ginger, and chili until the soup reaches a simmer. Stir in the cornstarch slurry and continue cooking for a minute or so until the soup has thickened.
3. Chinese bacon soup:
Chinese bacon soup is an easy, special soup that can easily make in-house. It can become one of the favorite house-special Chinese soups if you can cook it well by following these instructions.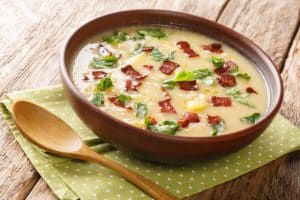 Ingredients:
2 cup vegetable (broccoli, carrot,  or you can add a vegetable of your choice)

Thinly sliced Green onion

 Freash bacon piece

1 cup diced tomatoes

One teaspoon of Ginger pest

One tablespoon sliced onion
Cooking process:
Pour oil into the pan, and add onion and ginger pest. Fry well. Now Add the bacon slices and fry until the pieces change color. Add water to this pan. This time you can add vegetables if you want. Cook until the broth of the soup turns white. At last, you can sprinkle some chopped green onion or additional flavor.
Pour in the gourd, stir fry and add water to boil until the gourd becomes transparent; add the chicken essence and sprinkle with a handful of green onions.
4. Easy egg drop soup:
 This Chinese soup is a straightforward recipe you can easily make at home and win the hearts of everyone in the family by cooking this delicious dish.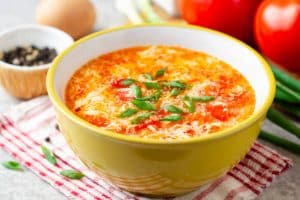 Ingredients:
To make this homemade egg drop soup recipe, you will need the following:
2 Cup sesame oil.

1 cup chicken Kima or vegetable stock

Cornstarch: To thicken the broth a bit.

Black pepper

one teaspoon of Gingerpest

one tablespoon

Sliced onion

one teaspoon of garlic pest

Soya sauce

2 Eggs: 

Green onions: Thinly sliced to mix into the soup and used as a garnish.
Cooking process:
First, make a thick slurry with cornstarch and water. Mix water and cornstarch continuously before turning on the heat. Set this mixture aside so that you can use it next time.
The broth must be becoming too relaxed. Otherwise, the cornstarch will not dissolve in the soup broth.
Take the pan with little oil, add garlic and onion pest, and fry a few times. Pour water when tern into boil you can add some vegetables or chicken according to your choice. Add soya sauce and heat until vegetable cook well. Now pour the cornstarch slurry into this soup.
Pour a beaten egg slowly into this soup and gently stir the soup. It continues to convulse the soup so that egg cannot consolidate in one place. We will whisk and then drizzle into the soup.
5. Chinese Beef noodle soup
Ingredients:
1 cup

vegetable oil

Cube-size beef meat cut into ¾ inch-small pieces: is chuck roast, but you can also use boneless short ribs, beef shank, or brisket.

garlic pest

round sliced green onions
sliced ginger

4cups beef stock

1star anise
½ cup sliced mushroom

1cinnamon stick

1tablespoon soya sauce

Chinese noodles of your choice

Salt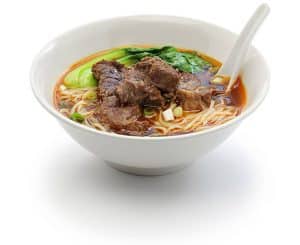 Cooking process:
Heat oil over medium heat in a saucepan. Add the onion, ginger, and garlic pest into the pan. Then add beef pieces and fry until they become brown on all sides.
Add the cinnamon, and star anise, and pour water. Heat over medium to low temperature until the beef is thoroughly boiled. Add noodles and cook them well. Now add soya sauce and other ingredients. Sprinkle a few green onions.
6. Vegetable and tofu soup
Tofu cheese soup, or vegetable and tofu soup, is a viral soup for soup lovers.
This simple method lets you take it home like a Chinese restaurant.
Ingredients:
Two tablespoons of vegetable oil

One package of extra-firm tofu cut into small cubes

2 cups chicken broth

One teaspoon of dried Italian seasoning, crushed
½ cup chopped onion

One tablespoon onion pest

1 cup vegetable

One teaspoon of ginger pest
One teaspoon of garlic pest

One teaspoon of thinly sliced garlic

1 cup sliced tomatoes

2 cups sliced fresh mushrooms
Red pepper

One tablespoon of sliced green onions

½ cup cheese

And salt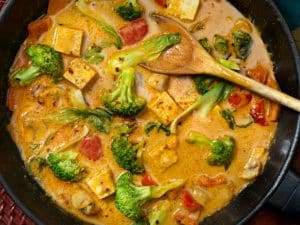 Cooking process:
Put tofu in a bowl and add oil, red pepper, ginger, onion, and garlic pest. Mix well all ingredients. Then place it in an airtight container. Keep the average refrigerator for marinating for 3 to 4 hours—heat oil over medium-high heat on the pan. Add marinated tofu and fry until tofu is changed color.
Add tomato pieces and chicken broth and boil with water. Add the mushrooms, vegetables, and cheese Cook for 5 to 7 minutes or until the vegetables are tender. Sprinkle green onion.
7. Super easy Chinese chicken soup
I just need a few simple ingredients to make this soup recipe. And very easy to make it.
Ingredients:
Two tablespoons of olive oil

Two teaspoons of chopped fresh ginger

Two tablespoons Chile paste

1 pound chopped cooked chicken breast

1 cup chicken broth

One tablespoon of tomato sauce

Two teaspoons sugar

One tablespoon soya sauce

1 cup chopped spinach

1 cup shredded lettuce

½ cup chopped green onion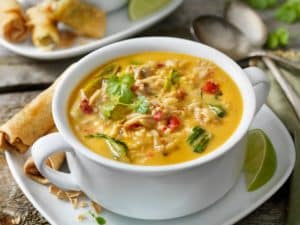 Cooking process:
Heat the oil in a pan over medium to high heat. Add ginger, garlic pest, and Chile paste in oil until fry well. Add chicken, soya sauce, spinach, broth, and sugar. Stir the water until the chicken is entirely well. Sprinkle lettuce leaf, green onion, and a few amounts of tomato sauce
Final Thought:
Reading this blog post, you can learn about seven very delicious house-special chicken soup recipes. You just need ready few simple ingredients and follow these instructions.