Wondering how to clean powder coated aluminum patio furniture and don't know how to start? No worries because we got this covered. And the process is pretty simple too.
The best way to clean your patio furniture is to use a mixture of water and mild dish-washing detergent. You can also use a pressure washer if the furniture is more soiled than usual. But keep in mind to not consider using chemical reagents, as there is a risk that they will ruin the powder coating.
In this article we will guide you step by step on how to clean powder coated aluminum patio furniture. We will also be answering important questions regarding the process. So, hold tight and read on.
Why does powder coated aluminum furniture get dirty?
---
Patio furniture often use power coated aluminum as material since they are durable and lightweight. These furniture use polyester beads to electrostatically plant the powder coating on charged aluminum surfaces. More importantly, power coated furniture is also corrosion resistant and hence, long-lasting.
Oxidation effects these types of furniture quite differently and you can easily clean off the white layer caused by oxidation with a wipe. Unlike epoxy coated furniture, you don't have to worry of the powder coating being flaked or peeled off from the surface.
So why does powder coated aluminum furniture get dirty? The answer is quite easy to see. Patio furniture is evidently built for outdoor purposes and hence is exposed to the elements outside. No matter how regularly you clean them, overtime they are bound to have dust or dirt build up on the surfaces.
Things needed to clean powder coated aluminum furniture
Things you will need to clean your patio furniture:
The cleaning mixture of water and soap/mild dish detergent

A rag or wipe to apply the mixture and clean the furniture

Cold water to rinse the furniture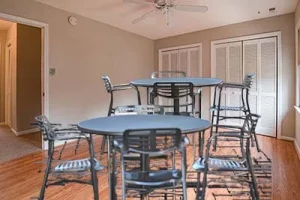 How to clean powder coated aluminum patio furniture: step by step
---
Once you have the required accessories at your disposal, it is time to get started. Here is the Step-by-Step Guide on powder coated aluminum patio furniture cleaning process.
Step-1: Prepare the cleaning mixture
First thing to do is prepare a soft mixture of soap and water for the cleaning procedure. You can consider using a mild dish washing detergent with water while preparing the solution. But keep in mind that using too hard chemical reagents can alarmingly damage the powder coating on your aluminum furniture. So, it is best to avoid chemical cleaners and use a simple mixture of soap and water instead.
Step-2: Clean the surfaces using wipe or rug
Now it's time to apply the cleaning solution on your furniture and in order to do so, you will need a clean rag. It is important to remember that you are using a lint-free rag for cleaning these furniture. This is because a rag with lint will not be able to help you smoothly clean the surfaces in the proper way. First dip the rag in the cleaning solution and then ring out the excess water. Use the wet cloth to carefully wipe the surfaces of your aluminum furniture clean. If you are using a spray glass cleaner to clean any glass surfaces on your furniture, be careful so that none of that solution is spilled on the actual aluminum surfaces as it can damage those areas.
Step-3: Rinse the furniture with cold water
Once you are done cleaning all the furniture with the cleaning solution, it is time to rinse the soap off with cold water. You can surely use cold water for the rinsing process since powder coated aluminum does not rust from coming in contact with water. But it is important to remember that you better not use warm water for the rinsing as it may affect the coated layer. If there is still dirt left on the furniture, the wisest thing to do is to repeat the cleaning procedure until all the dirt has been washed off.
Step-4: Dry the furniture properly
After the washing process is over, it is very significant to properly dry the furniture before putting them in use. Give ample time for the furniture to dry outdoors. Also, do not put the cushions back on them until all the furniture has dried properly.
Final word:
---
Cleaning powder coated aluminum furniture is quite simple if you know the appropriate method. Let us know if the article was helpful. Leave any queries if you have regarding powder coated aluminum furniture.