The world of luxury real estate follows a linear curve. So, what seemed hot yesterday may seem basic today. Every aspect of luxury homes keeps changing, leaving the developers, architects, and realtors with few choices than incorporating those cutting-edge designs to attract buyers. People focus on various features in the kitchen, bathroom, and entertainment room. Several other factors, such as high-end amenities and crisp designs also define luxurious living to a great extent. It is more about how people desire to live and developers trying to give shape to those aspects.You all will agree that buying a luxury home is different than purchasing an appliance, so various factors are at play. You need to consider the location, financing options, emerging trends, and features of the house are a few aspects to consider. Naturally, you need to look into some of the newest trends in Kelowna luxury real estate before buying a home.
1. The popularity of luxury second-home ownership
People avoided buying second homes in the past as they had second thoughts in mind about the value that they would get and it might stay vacant throughout the year. However, people today are no longer settled in one place, so they may get the most out of their investments with a second home. Research reveals that millionaires own two homes on average and over 20% of luxury real estate agents expect the demand for second homes to stay strong in the next five years. Many buyers prefer luxury amenities in the second home as well.
2. Young buyers looking for large spaces
The younger buyers looking forward to lifestyle options need to balance work, home, and play. Most of them are inclined towards the trend of modern and contemporary spaces, lending themselves to efficiency, comfort, and creativity. These buyers may look forward to Okanagan homes for sale where lifestyle remains the cornerstone with spectacular views, poolside, large outdoor spaces, entertainment and work areas within the home, and proximity to the lake.
3. Use of high-end materials
Glass walls and porcelain floors are some of the trends dominating luxury real estate Kelowna. Besides, matte, copper, and steel finishes are making a comeback. Buyers are more inclined to settle down for soothing colour palettes and clean lines. The popularity of mixed materials is also growing rapidly.
4. The desire for amenities is also changing
The amenities of luxury homes play a significant role to take them to the level of luxury. Most buyers abandoned large yards before 2020 owing to the accountability of maintaining the landscape and the added expense. However, the global pandemic has created a paradigm shift and made people prefer outdoor spaces. Everyone from the elderly people to kids, and pets benefited from the convenience and safety of large yards. Besides, the demand for swimming pools is also on the rise, keeping in mind the growth of home offices. Staycations are more likely to be responsible for the popularity of home entertainment options.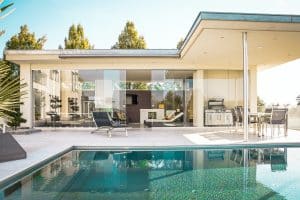 5. Sophisticated designs
People have started developing a special interest in state of the art designs besides the quality of materials used. The consumers looking forward to owning properties in Sotheby's Kelowna are more aware of luxurious designs that are sophisticated at the same time. For luxury homes, buyers are hardly ready to compromise the design aspects. The creations seen today are no less than unique in terms of class and uniqueness.
6. Functional closet spaces
Many buyers today have a fetish for large closets. For women, however, the biggest closet is what they prefer with ample storage space and options for organisation from clothes, bags to shoes. Moreover, the closet spaces need to be functional, spacious, and well-lit.
7. Simplifying luxury
A few years back, luxury homes were all about featuring formal interiors that lacked the human touch and the natural feel. Nowadays, people are getting easy with their choices of luxury homes, making them more elegant and simple along the way. Relaxed interiors are more in vogue making them homely in the real sense. Laid-back homes delivering a relaxed feeling is the new norm prevailing in Kelowna luxury real estate.
The year 2022 has witnessed high mortgage rates, a reduced supply of construction materials, and various other economic factors. You need to watch the trends to find out what the buyers can expect and adjust them to purchase luxury properties.